Big Flavors, Big Thinking: A local business is on a mission Michelada | Latin Voice | Chicago News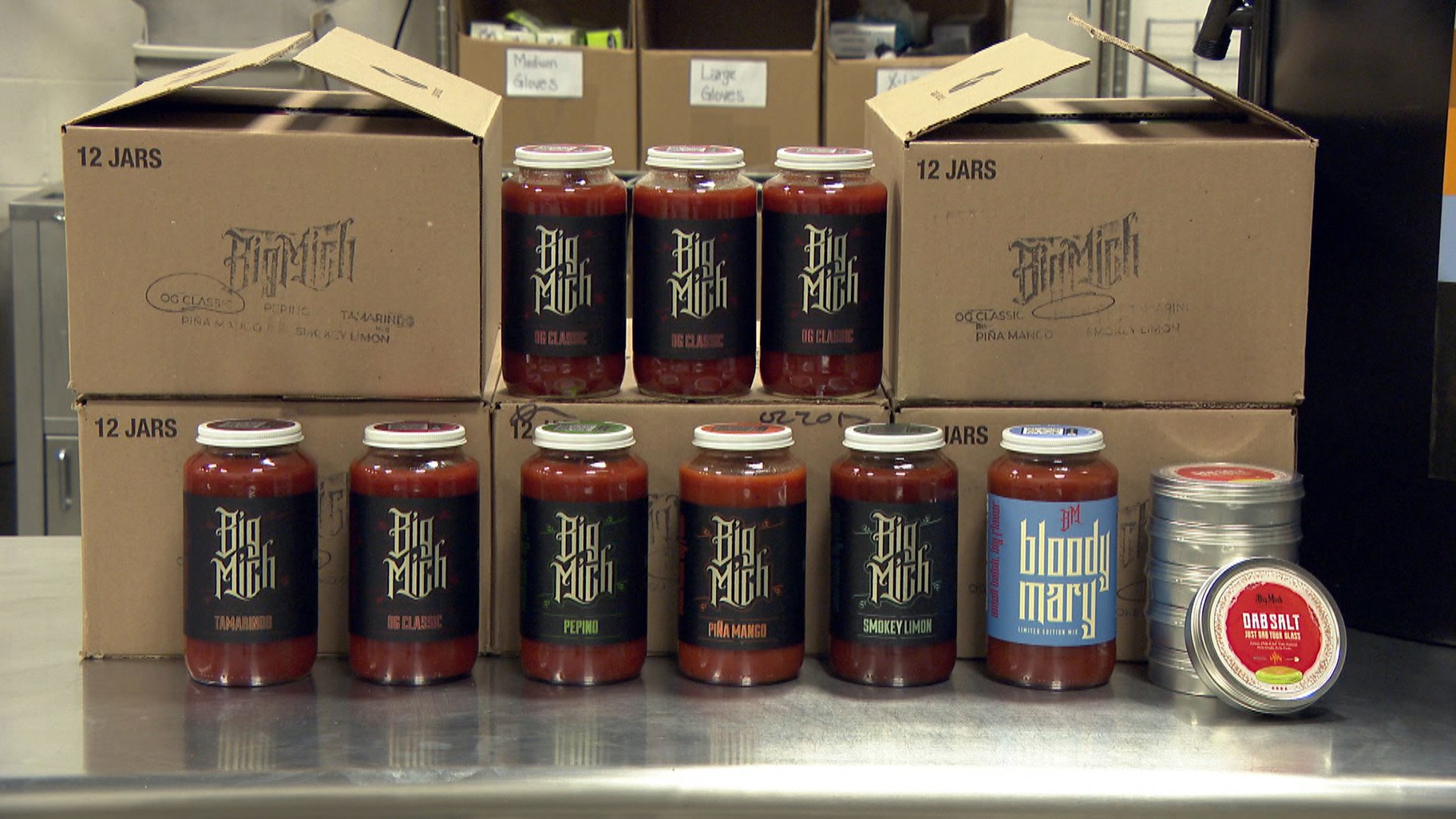 As a veteran of the restaurant industry, Javier Garcia has mixed more than his share of beer and tomato juice cocktails better known as micheladas behind the bar.
"I love micheladas," says Garcia. "I drank them long before I should have drank them."
"It's spicy, there's lemon and a bit of salt, which means it's helpful, sort of for a hangover. It's rooted in big, bright, traditional Mexican flavors.
Now Garcia wants to bring his Big Mich michelada mixes to your family's fridge. But before launching Big Mich, he had to get the approval of his wife, Nathalie Solis.
"It was definitely a leap, wasn't it, to tell your wife that I want to quit my job and sell tomato juice, you know, on the street."
Garcia says years of working in the restaurant industry have prepared him to mix it all up professionally. With Nathalie's encouragement, he quit his job in 2017 and used his last paycheck to start hand mixing micheladas in their basement.
"I went to Menards, and bought all the mason jars they had at Menards, I went to Costco and bought all the limes they had at Costco, and we tried to prove the concept. And that first weekend, we won $1,000. So it really started with $600.
Garcia says word spread quickly and growing demand allowed him to officially launch Big Mich later that same year selling to local liquor stores. Solis joined the company in 2018 and added a touch of friends and family to grow the team. Today, Big Mich is building a distinctly Mexican identity for its growing product line.
"We kind of wanted to take our lives, our interests, and what we love about other brands and put them into our brand, which is ultimately a Latin-Mexican brand," says Solis.
The brand's marketing manager, Juan Sanchez, explains that their strategy is to focus on what they love.
"We want to shine a light on the moments our family shares – our traditions, our cultures and our family gatherings and how we, as a brand, experience those moments."
And they say the main ingredient of this identity is freshness.
"As Latinos, we know what good food tastes like, we know what fresh food tastes like," Solis says.
"We try to chop it, puree it, all in-house, so we can kind of control where it is. All our [chilies are] dehydrated locally, it is mixed here in-house," says Garcia.
Xavier Mondujano, sourcing and business development manager, says Chicago's strong Mexican presence means easier access to the ingredients they need.
"We're not afraid to spend a little more if it means we're going to get the freshest produce and produce. Luckily we live in Chicago where we can drive to Little Village and Pilsen and find some really good quality Mexican produce.
In 2020, Big Mich took a big step forward. They moved production from the backroom of the Cicero grocery store to a larger facility in suburban Willowbrook. With room to expand, they hope to compete with major beverage brands while also caring for the family stores that got them started, says chief operating officer Danny Vargas.
"Mom-and-pop stores really care about what's on their shelves, it's real estate space for them," says Vargas. "We want to make sure we're putting quality products out there, but on top of that we're also giving them this white glove service."
And Garcia and Solis say no matter how big Big Mich gets, they'll always be in it "pa'la gente."
"People are really proud to say, look, I just bought this jar of Big Mich, I'm going to share it on my Snapchat, my Instagram, my Facebook, so people know that's what I'm drinking" , says Solis. "The fact that people do it so willingly and just share the love – I'm really thrilled about that."