Local company Trxstle is a success of the Thurston investment network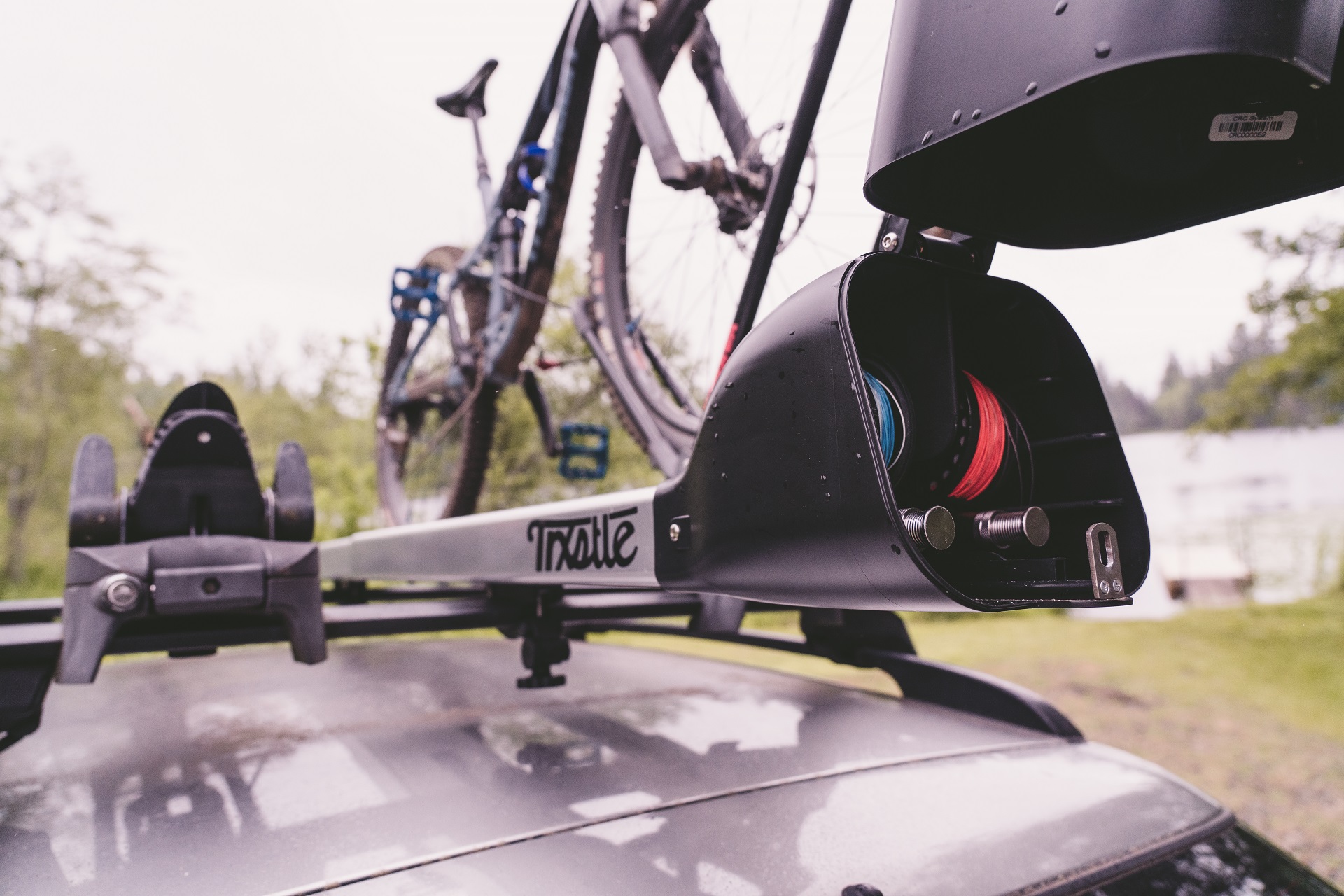 Dn the course of Super Bowl LII, guests at Morgan Misek's house believed they had been invited to watch the game. But Misek and his business partner John Smigaj had another idea: to use the largest captive audience they had to date to practice their Thurston Investment Network (ThINK). "They were kind enough to let us do it," says Smigaj. "It was the largest group of people we could get around at one time."
Their actual launch took place several weeks later and they were successful in gaining the support of their multisport outdoor gear and apparel business, Trxstle. Local lawyer and ThINK investor Gary Andrews was convinced by his business plan and ability to answer any questions, as well as the prototype of a Convertible Rod Carry System (CRC), a storage device fly rod and reel that allows an enthusiast to carry two fly rods fully mounted on top of a vehicle.
"I like fly fishing, so he hit a niche that I was really interested in," says Andrews. "I have been in the land of fly fishing and seen how crazy people are with their gear. It was something I had not seen in the market and I liked it. I thought, "Even if we don't fund them, can I get one? "
Other companies have also attracted investment through ThINK, a membership-based network that connects those who want to add a local component to their investment portfolio with local business owners who need capital. The Thurston Economic Development Council's (EDC) Center for Business & Innovation (CB&I) oversees the program. According to Andrews, Trxstle has received the largest investment and is the furthest from where they started out of all the companies that have received investments through ThINK so far.
Once the funding was secured, Misek and Smigaj envisioned that the next steps would be relatively straightforward: manufacturing and distribution. Fate had other plans, however. First, there were communication problems. "Communicating with the manufacturing partner in China was definitely a learning experience for us," says Smigaj. "I went to China with a colleague who had worked in manufacturing in Asia for about 10 years and spoke Mandarin. We inspected everything, told them what was right, what wasn't and thought we were good to go.
But just as their first shipment was due to arrive, the US government shutdown occurred, meaning all ports were now inoperative. Instead of arriving in Seattle as planned, their ship was diverted to Canada – where a large crane fell on it, destroying dozens of containers. "Fortunately, not ours," says Smigaj. "We uploaded a video in our newsletter showing the crane hitting the boat and explaining what happened."
When the government shutdown ended, their ship returned to its original destination, Seattle, just in time for last year's Snowmaggedon. Seventeen inches of snow fell in no time, causing another five day delay. The couple ended up unloading their first shipment through 10 inches of accumulated snow in their store's yard.
It was a year ago. Today, after collecting feedback from their first customers online and via social media, Misek and Smigaj have changed their product and made improvements. Their second batch of CRC has sold out and they are expecting their third early this year.
Misek and Smigaj are both engineers, the first an avid mountain biker, the second an avid fly fisherman. From the start, they've searched for a way to combine their passions with a fully installed fly rod system that can be mounted on a mountain bike to help access remote areas without having to assemble a rod on the spot. This project remains in the development phase but with the help of ThINK, other products are starting to gain momentum.
"We built the brand, strengthened our online presence and added clothing," says Misek. "We've created a compact waterproof case for everyday essentials and our clothing line has sold out several times. Currently, their gear and gear are available online and in about 15 regional fly fishing stores. Larger deals are underway and they have already secured a Canadian distributor. In 2020, they plan to participate in at least five trade shows at the start of the year.
"I'm really looking forward to seeing the bike wrapping system we are working on," says Misek. "John introduced me to fly fishing and I took him mountain biking, and I really like the idea of ​​combining them."
For his part, Smigaj is excited about the final version of the CRC system which will be released this year. "He will do everything I ever wanted him to do," he says. "We also have some really cool clothes coming out that are more technical and I can't wait to see how it's received."
Andrews believes Trxstle's success can only strengthen ThINK's profile in the community, encouraging more investors and entrepreneurs to come together. "We can introduce Trxstle and say, 'These are the opportunities that are available in this community. It's not just about buying local, it's about investing local, which is exponentially better.
The ThINk Network will be hosting a business presentation event on Thursday, February 13 from 2:00 p.m. to 4:00 p.m. at the Center for Business & Innovation, 4220 6th Avenue SE, Lacey. Three local businesses looking for capital to start or expand their operations will present to network members. The first 15 minutes of the session will be a short training course for those interested in learning more about the ThINk network. Participants then have the opportunity to sign the ThINk membership contract and join the network. Those who join are then invited to stay to hear the business pitch. There is no membership fee to join ThINk and never an obligation to invest.
Learn more by visiting the Thinking website or call 360-464-6045.
Sponsored