There are four dots and seven zombies | Local film | Savannah News, Events, Restaurants, Music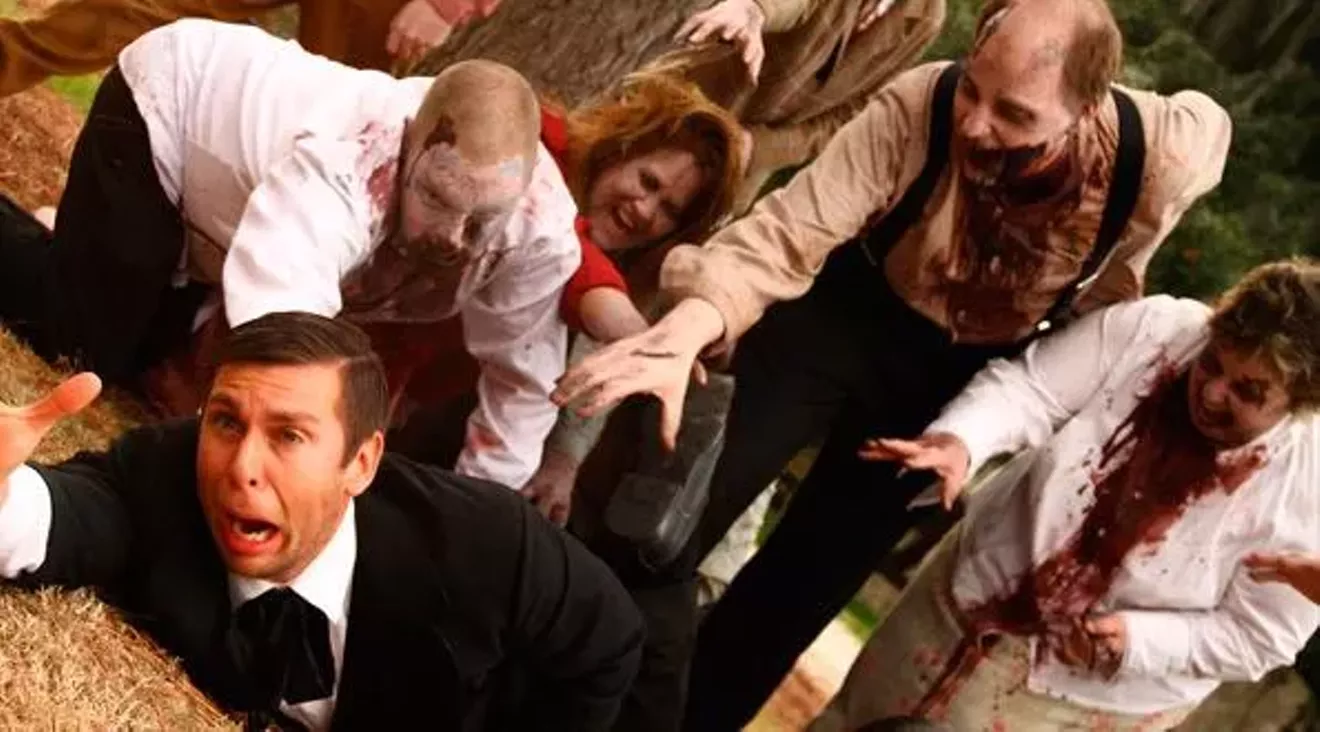 [ad_1]
Here's the thing with zombies: they're disgusting. Unlike sexy and shiny vampires, zombies walk around like drunk lepers and eat innards. They are not something to encourage, or, God forbid, to emulate (unless, apparently, you live in Florida. Or Maryland. Or Canada. Oh my God, what happened to this world ?!)
Even for those who are not thirsty for human flesh, zombies live in the modern psyche, dragging their ungodly corpses through video games (because it's incredibly satisfying to behead them) and horrific horror movies ( because it's incredibly satisfying to see them beheaded.)
And make no mistake about it, Abraham Lincoln vs. Zombies is terrible. In the best possible way.
Written and directed by Richard Schenkman and shot in and around Savannah, the low-budget horror film is set in the midst of the Civil War, a week before the 16th President addresses the families of fallen soldiers in Gettysburg, Pennsylvania. When his assistants inform him that a group of undead has taken control of the strategic stronghold of Fort Pulaski, he suspends his presidential program and pulls out a rusty scythe to fight a herd of stealthy flesh-eaters. A spill of blood and bad dialogue worthy of a quote ensues. (Prediction: "Masticate THIS!" Will go viral.)
An intentional scam that aims to ride the tailwind of Tim Burton's highly anticipated Abraham Lincoln: Vampire Hunter in theaters next month, this "mockbuster" was created to go straight to DVD. It was released last week for download or rent through Netflix and Red Box and had a rare appearance on the big screen in back-to-back Memorial Day screenings, which brought its fiercely loyal local cast and crew and a few lucky guests. to descend on the Jepson. .
Although Abraham Lincoln vs. Zombies didn't bring celebrities or a lot of money to town like The conspirator done or to come CBGB hopefully, it still inflated Savannah's street reputation as a feature film location. Savannah Film Office commissioner Jay Self helped coordinate permits and says he treated Los Angeles-based Schenkman and his team with the same respect he would any major Hollywood production. .
Due to the meager budget of $ 150,000 – which would barely cover snacks for a blockbuster production – Self was also called into action as an additional zombie, along with her daughter, Emily.
"I was happy to help," he shrugged at the premiere last Monday. "Isn't being a zombie on everyone's list?" "
Although it won no Oscar, the bloody feature film was a godsend for local talent. With the exception of key roles and the team, everyone else hired was from the Savannah area. Like someone said, Abraham Lincoln vs. Zombies "Had more of an effect on the local film community than Forrest Gump. "
The production company, Asylum Films, brought in local producer / director Jody Schiesser for the first assistant director (he produced the award-winning short of 2007 The street cleaner) and Savannah filmmaker Tim Gill as cinematographer, as well as a host of local actors, many of whom had worked together on previous projects.
"It brought so many people from Savannah together," Schiesser said. "Working with everyone you know was part of the joy. "
Local actor David Harland Rousseau went from a small role to that of second assistant director when production was in full swing, making him the film's unofficial "Chef Zombie Wrangler".
"There were about sixty of them and it was a long day of filming," Rousseau remembers. In addition to teaching the zombies etiquette of the game, he also demonstrated the perfect sheer. (Yes, they're traditional slow-moving zombies unlike the new breed of lightning-fast puzzles in resident Evil and 28 days later. It is, after all, 1863.)
Cheese factor aside, there's a lot to like about this hysterical historical drama. Gill's sun-bleached cinematography presents Fort Pulaski and the island of Oatland as strikingly beautiful and utterly frightening. And while you'll hear some of the worst Southern accents ever documented, there are standout performances: Bill Oberst, Jr. (some will recognize this from Scheisser's The street cleaner) gives a believable twist as a Lincoln-as-badass while imbuing the character with the President's unwavering leadership; his Gettysburg speech is so compelling that you might forget you're watching a monster movie.
Even the plot contains unexpected depth, including John Wilkes Booth's creative set-up as a double agent (played as a deranged charming by Jason Vail) and a pretty impressive soliloquy comparing the insane affliction of zombiehood to the perverse effects. of slavery.
But suffocate us in shallow water before we get too deep. As you enjoy Abraham Lincoln vs. Zombies in your living room, you might want to follow the guideline of Schenkman, who doesn't take his basement masterpiece too seriously. In an email Scheisser read at the screening, the director (who also stars as an equestrian doctor in his own film) offers a drinking game: throw one up whenever you see a zombie appearing. perished in a previous scene.
We say every time you see someone you recognize make a duplicate.
A projection of Abraham Lincoln against the zombies is happening this Friday at 7:30 p.m. at the Averitt Center for the Arts in Statesboro. It's free and open to the public but places are limited. Call (912) 212-ARTS to reserve a spot.
[ad_2]